What Are the Best Safety Glasses in 2019?
Protecting your eyes is incredibly important. Whether you're working in an industrial environment or you spend a lot of your time engaged in athletic activities, wearing the right gear can make all the difference to your safety. Finding the best safety glasses is a great way to ensure your vision stays strong for many years to come. In order to select the right pair for your needs, you need to have an idea of what makes for an excellent pair of z87 safety glasses.
Qualities of Exceptional Safety Glasses
Understanding what qualities to look for in your polarized safety glasses can make a big difference to how satisfied you feel in your investment. Above all, it can be important to do your research and make sure the options you are considering are durable and proven to last in a variety of intense situations. Industrial work environments can create a lot of hazardous debris that could easily get into your eye. To avoid this, you want to make sure your options have an ANSI rating. This ensures the glasses meet strict safety guidelines and testing standards.
For those who are looking for protective eyewear to use while engaged with sports, you may want to examine UV protection. Polarized lenses can help cut back on glare and offer more clarity while playing outdoors. Prolonged exposure to UV-B rays has been linked to degenerative ocular issues, so finding the right protection is a must. Beyond this, you may find it advantageous to go with options that boast features like scratch-resistant lenses and a lightweight frame. To get a better idea of what's available, check out these options for the best safety glasses in 2019.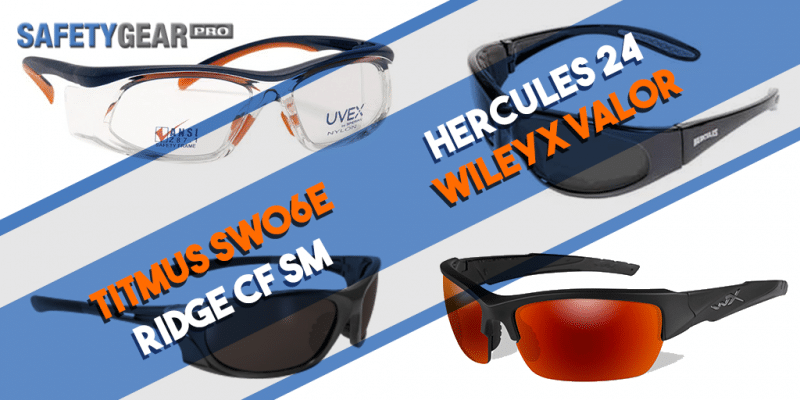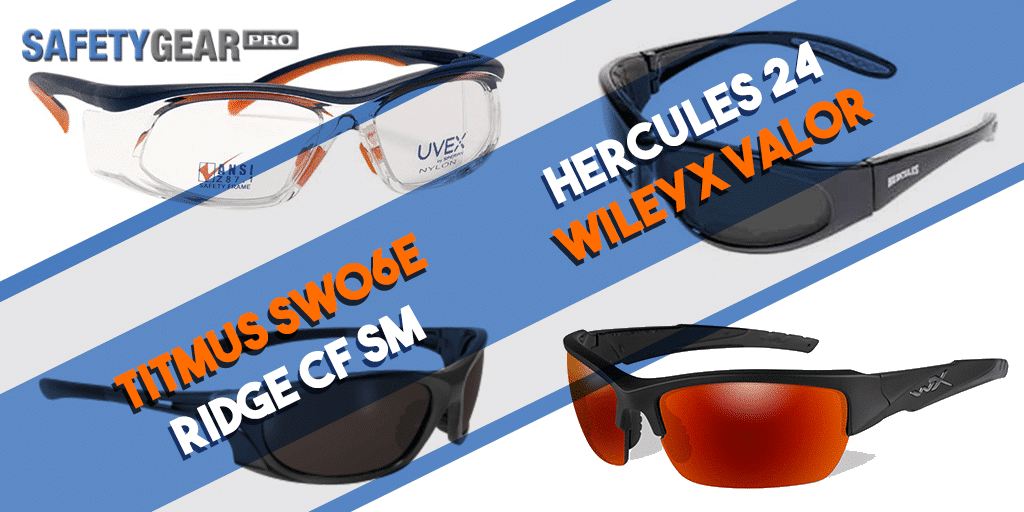 One of the more popular options available, the Titmus SWO6E is all about comfort without sacrificing high-quality protection. The pair fits perfectly on your face, protecting your nose with cushioned pads to keep them securely in place without causing discomfort. The Titmus SWO6E is considered one of the best safety glasses for your needs because of its proven durability and reliability. This top-of-the-line product is a great way to keep workplace accidents under control and shield your vision.
Another excellent option worth your consideration is the Ridge CF SM. These z87 safety glasses have been rated by the American National Standards Institute and have been deemed appropriate for use in industrial applications. Fitted with shatterproof polycarbonate lenses, these glasses feature UV filters that help to protect your eyes from the hazards caused by prolonged exposure to sunlight.
If you're looking for a stylish pair of glasses to keep you protected, the Hercules 24 may be a great choice. The matte black nylon frames create a slick and polished look that can be perfect for everyday use. The lenses feature a scratch resistant coating so you can get more years out of your glasses. Plus, the Hercules 24 meets the standards set forth ANSI and feature advanced UV protection.
If you're an athlete, then you may be concerned with how safety glasses make you appear while on the field. WileyX Valor is an option that may be perfect for your needs. These polarized safety glasses are lightweight and made from incredibly durable materials. The eyewear is available in a wide range of colors and styles, allowing you to find a pair that perfectly matches your own aesthetic. Above all, these sports glasses offer serious protection and improved visibility so you can always play your best.
There are many different options available when you need to find the best safety glasses. Do your research and you will be able to discover the ideal pair for your specific needs.