If you're affiliated with a federal agency or a non-governmental group that receives federal funding, you may be eligible to purchase our supplies from the General Services Administration. Shop our catalog of products since we are a GSA approved vendor.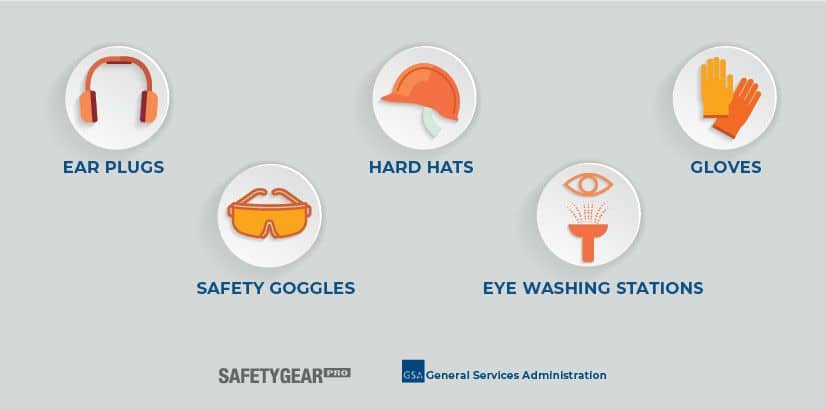 Ordering Safety Gear Pro Products From the GSA
If you're interested in ordering our products through the GSA, we specialize in PPE essentials such as earplugs, hard hats, gloves, safety goggles, and eye-washing stations. Not only is our business a GSA approved vendor, but we're also proud to be a minority-owned small business. Our GSA contract number is  47QSWA18D001F .
Learning About the GSA
The GSA, which was founded in 1949, takes care of the maintenance and protection of federal property. It also oversees supply purchases from nongovernmental contractors and provides guidance on moving forward from disasters such as the COVID-19 pandemic.
One of the ways that the GSA helps federal agencies is through the GSA Advantage catalog. This online marketplace connects GSA-approved vendors such as ourselves with federal clients. Many products are available:
Gloves
Safety Equipment
Safety vests
Safety Goggles
Hard Hats
Usually, the GSA works out discounts with each GSA-approved vendor, so federal agencies can get better prices by using the Advantage marketplace.
FAQs
Who Can Use Use the Advantage System?
GSA's Advantage catalog is open to customers working through the federal government. The executive departments and agencies, such as the Central Intelligence Agency and the National Parks Service, can order from this catalog. It is also available to groups related to the government, such as the Postal Service, Smithsonian Institute, and American National Red Cross.
Do Your Products Have Safety Ratings?
If your agency requires your PPE to follow certain safety protocols, our products are good choices. We offer safety glasses and face shields that comply with ANSI Z87 standards, which means that they are rated to withstand high levels of impact. For the greatest protection, we use durable materials such as polycarbonate.
When Do You Need PPE?
Wearing PPE is a necessity whenever you are working around flying objects or near hazardous chemicals and human waste. The Occupational Safety and Health Administration provides guidelines for PPE usage by industry. Failing to follow these guidelines could affect your employees' access to workers' compensation benefits, particularly during federal contracts.
When Should You Replace Your PPE?
Some kinds of PPE must be replaced after every use, such as disposable gloves and face masks. Others must be replaced following contact with a flying object. For example, hard hats and helmets' cushioning foam usually gets damaged after a forceful impact, so this equipment must be replaced after collisions.
What if You Need Specialized Equipment?
The GSA's site includes many filters that allow you to sort results by the manufacturer, small business type, and field. You can also filter results by whether products comply with Energy Star and National Emission Standards for Hazardous Air Pollutants guidelines.
Find out about the different Safety Gear Pro products you can get through the GSA by visiting our website.