Prescription Basketball Goggles and Basketball Glasses
BEST DEALS AND LATEST STYLES OF BASKETBALL GLASSES
Filter by
Top Features Of Basketball Goggles
ONLY THE HIGHEST STANDARDS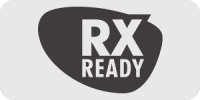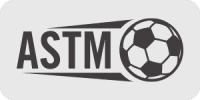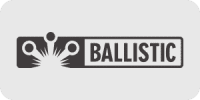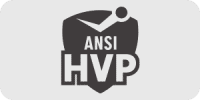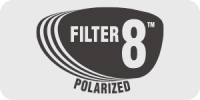 Prescription Sports Glasses
Find Your Perfect Sports Glasses
Best Prescription Basketball Glasses
INDUSTRY LEADING PROTECTION - WATCH & LEARN HOW
Premium Vision Protection For Sports Performance
When you are playing basketball, its unpredictable and injuries can happen, and one injury you will always want to avoid is any kind of eye injury. Luckily there is an easy solution to potential damage from shattered glasses, and that is prescription basketball goggles. Tough, safe and hardwearing, sports glasses for basketball give you peace of mind on the court, no matter how intense the game gets.
Protect Your Eyes and Improve Your Game
Basketball glasses are essential protection for your eyes, but they need to be more than that. When you are concentrating on the game, you don't want to be worried about your eye protection staying in place, or losing focus because they are causing you discomfort, those prescription sports goggles need to be secure, fit well and be comfortable to wear throughout the game.
Improve Your Game With Sports Glasses for Basketball
ULTIMATE PROTECTION & PERFORMANCE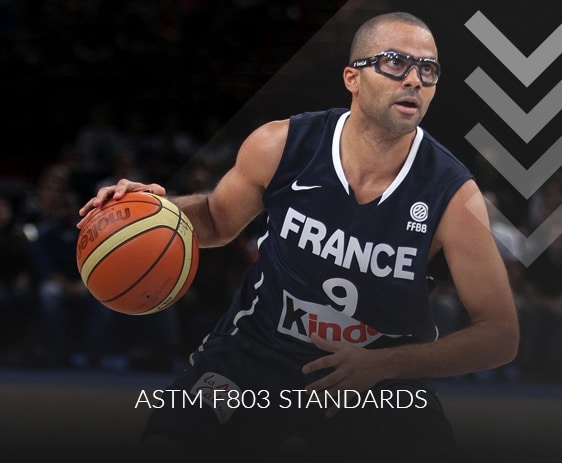 You need protection for your eyes, but it should be the right protection, and that is what ASTM F803 standards give you. Prescription basketball glasses should always meet these standards to ensure eye safety in all conditions. The standards specify the level of impact resistance and other aspects of the lens to ensure they provide the safety you need. In fact, to meet these standards your prescription basketball goggles the frame and lens must withstand the impact of a 40 – 65.1 mm projectile fired at 150 km/h. Now, that is the protection that gives you confidence in any game.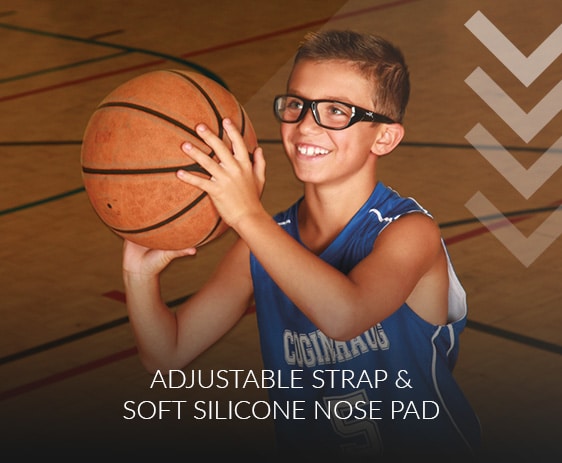 Adjustable Strap and Soft Silicone Nose Pad
Comfort is important too, in fact, not just because if your basketball glasses are not comfortable, it makes it difficult to focus on your game, but also because you are more likely to simply stop wearing uncomfortable eyewear, and if you are not wearing them, they are not protecting your eyes. That is why you should look for prescription basketball glasses that have a wide range of strap adjustment and soft silicone nose pads for maximum adjustability, so you will get a comfortable fit. Silicon is also really grippy, and that keeps the glasses where you want them. The best glasses are those you forget you are wearing, and with soft contact points and great adjustability, that is what the best sports glasses give you.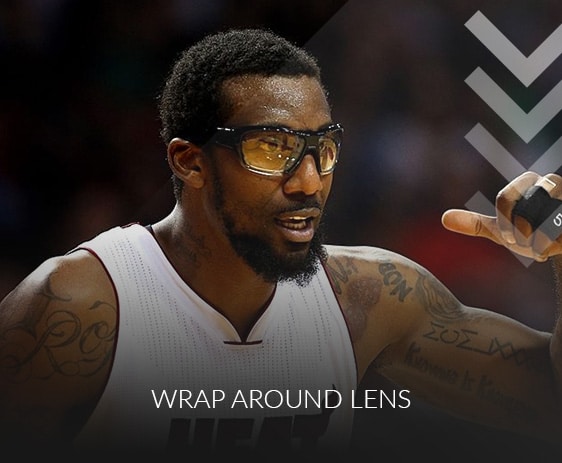 Eye protection is not just about head on issues, hits to the side of the eye can be just as damaging, and this is why the best prescription sports goggles wrap around the eye towards the temple for complete protection. Its not just that side protection either, looking through the lens gives you the clearer, focused vision your game needs, and you need that enhanced vision consistently wherever you look, by wrapping around, sports glasses give you that same clarity when you glance sideways as they do when you look forward, and that can make a big difference to your game.
Finding the Best Prescription Basketball Goggles for you
Knowing you need Prescription Basketball Googles and finding the right ones for you are two different things. After all, you want the best eye protection possible, so how do you know what to look for? There are some aspects of eyewear that you should pay attention to.
Material That Meets ASTM F803 Standards
You need glasses that can withstand the impacts and protect your eyes, and that means prescription basketball goggles that meet ASTM F803 standards. But they also need to be light, flexible and comfortable, because you want to forget about them when on the court. That means prescription sports goggles that have RX lenses and polycarbonate frames, with soft silicon touch points and flexible, adjustable strap for a secure fit.
Perfect Fit For Adults and Youth
The best eye protection is the one you will wear, and if your prescription basketball goggles don't fit right, you are likely to leave them at home. That means soft silicon support for the nose, plenty of adjustment in the strap so you always find a secure and comfortable fit, and also the size of the lens themselves. Wrap-around lenses are really important for overall protection as well as consistency of vision, giving you everything you need in your prescription basketball goggles.
SafetyGearPro.com #1 Trusted Brand by Athletes
Order your pair of prescription basketball glasses at our amazing low prices right now, and you will feel the difference in your next game. You get clearer vision and increased comfort, making these your ideal glasses. Don't wait, get them today, your eyes deserve the best.
Prescription Basketball Goggles and Glasses FAQ
Why should I wear basketball goggles?
Basketball goggles help you see clearly, protect your eyes and prevent injuries. In fact, some players with perfect eyesight wear non prescription goggles because of how well they protect the eyes. Everyday glasses are not designed for the sweat, rigors and high-contact intensity of basketball. Goggles, however, are. Ordinary eyeglasses might fog up and hinder your vision during a crucial moment, but goggles enable you to see well and perform to your potential.  Look for goggles that cover the whole eye.
Safety Gear Pro has a wide variety of prescription basketball goggles. They come in different styles and offer impact resistance, easy adjustability and soft silicone support for the nose.
Is it safe to wear glasses when playing basketball?
It depends on the type of glasses. If you wear your ordinary everyday glasses, then no, that is unsafe. These eyeglasses do not adequately protect your eyes and are prone to breaking. They may fog up and hurt your performance on the court. However, basketball glasses (also called basketball goggles) are designed for basketball and other sports.
Because of the protection offered, some players wear basketball glasses even if their vision is good. Safety Gear Pro offers prescription and nonprescription basketball glasses in a range of styles. These eyeglasses measure up to the frenetic, high-intensity rigors of basketball. They're designed to help you, not hurt you.
Do high school basketball players wear glasses?
Many do, even if their eyesight is perfect. That's because basketball-specific glasses and googles provide superior eye protection. At Safety Gear Pro, a range of prescription basketball glasses is available for youth and adults. You can also get them nonprescription.
Avoid wearing your everyday glasses for high school basketball. They can lead to eye injuries and do not sufficiently protect your eyes. Also, the nature of basketball means that your glasses could fall to the floor or be knocked off, and break. Regular eyeglasses can hurt your on-court play as well. Even if they fog up just occasionally, you don't want to worry whether they're about to fog up in a critical moment.
Can I Play Basketball With Glasses?
While it is acceptable to wear glasses when playing basketball, it is important that the right type of eyewear is worn to avoid eye injury and ensure your glasses don't get in the way of your performance. Investing in a pair of sports spectacles or goggles that are impact-resistant are recommended for sports like basketball.
What Are Basketball Goggles?
Basketball goggles are a type of sports eyewear that wrap around the head to prevent slippage and to provide the eye with full coverage from every angle. Sports eyewear is made from durable materials, such a polycarbonate, that protect the eyes from projectiles and other accidents.
Can You Get Prescription Basketball Goggles?
You can purchase prescription basketball goggles to protect your eyes without needing to wear a pair of contact lenses underneath your eyewear. You can also invest in other lens features, such as tinted sunglasses lenses, anti-scratch coatings, and more. We carry a large variety of prescription sports eyewear for basketball players of all ages.
Who Wore Basketball Goggles in the NBA?      
Wearing glasses while playing basketball isn't just reserved for kids or amateur players. There are many famous college and NBA players who wore basketball glasses because they didn't like wearing contacts or to protect their eyes after suffering an eye injury. Examples include Kareem Abdul Jabbar, Horace Grant, and Kurt Rambis.
How Do I Keep My Basketball Glasses From Fogging Up?
Sports glasses or goggles are most prone to fogging in extreme heat or cold. Additionally, goggles are more likely to fog than spectacles. Choosing anti-fogging technology when customizing your glasses is one of the most effective ways to prevent your lenses from fogging up.