Uvex Prescription Safety Glasses
Filter by
Uvex Related Safety Eyeglasses Categories
FIND YOUR PERFECT PRESCRIPTION SAFETY GLASSES
Uvex Safety Glasses Videos
WATCH & LEARN ABOUT UVEX SAFETY GLASSES
Get a good look at the Usonic Uvex goggle in this installment of the Winners at Work product showcase hosted by brand ambassador Anna Meares. Find out why the Usonic design is ideal for work in confined spaces and watch a guide on how to safely put on and take off goggles or Uvex safety glasses.
Uvex makes active eyewear in addition to specialized safety goggles and glasses. Matthias Adler, product manager for the brand's sports eyewear division describes the design and features of SGL-202 Uvex glasses designed for cycling. These lightweight, non-slip frames feature variomatic lens technology that adjusts to changing light levels and are easy to clean.
Uvex Safety Glasses Features
ULTIMATE GLASSES FOR PROTECTION & PERFORMANCE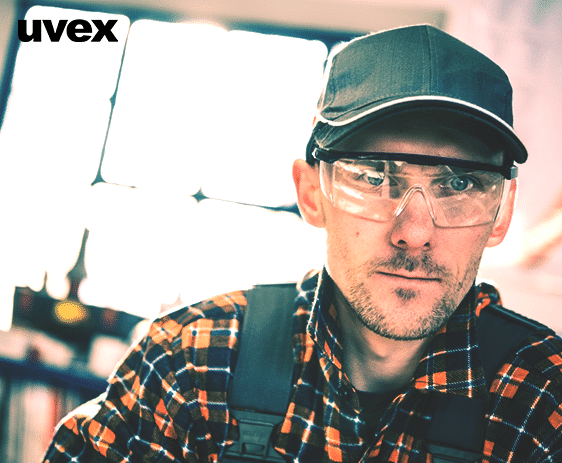 Many Uvex products are rated to perform at the levels specified by the American National Standards Institute. Some products are also approved by the Occupational Safety and Health Administration for job site or workplace wear. Check the features of any pair you want to wear for specialized work or activities.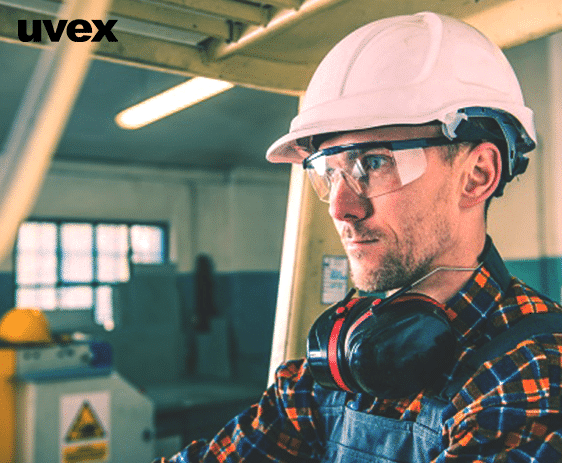 Special Polarized Coating
The safety features of Uvex eyewear don't stop at the frames or prescription lenses. Safety Gear Pro makes it possible to promote comprehensive ocular health and safety with polarized coatings. This tinting treatment can cut glare and improve your ability to see while driving or out on the water.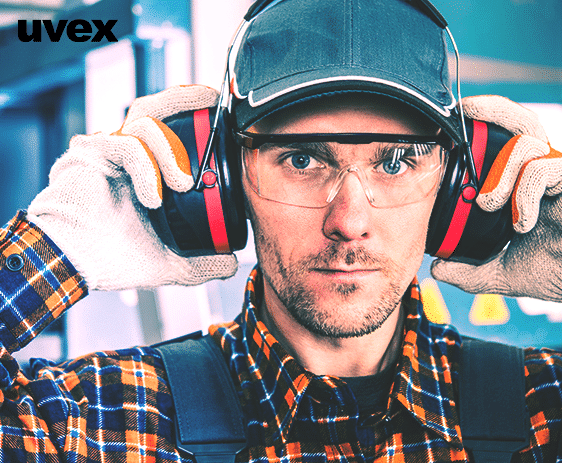 Uvex goggles and glasses stand up to testing under extreme conditions. These ballistic tested materials can protect your eyes and face when working with heavy machinery, riding a bicycle or motorcycle or for wear during a wide variety of sports.
Uvex is a German maker of eyewear and personal protective equipment with durable frames and shatter-resistant lenses for safety when working, cycling or other intensive activities. Depending on when you plan to wear Uvex glasses, you may prefer more casual and conventional frames or specialized eyewear.
Standard glasses in the BC, HP, or SW collections can be ideal safety-driven options for everyday wear. Construction workers and others seeking heavy-duty eye protection on the job should consider dedicated Uvex safety glasses. The durability and features of the Ambient OTG, Astro OTG, Astrospec, Horizon or Hypershock safety glasses prioritizes protection while remaining stylish and simple to wear.
More advanced personal protective gear for eyes and face such as Bionic Faceshields with visors, Turboshields and a full line of Uvex goggles and sealed eyewear makes it possible to get any style of the level of protection from this trusted brand. Make sure to choose a model that provides the secure fit you need for a particular application, whether it is the SGL-202 for cycling or Uvex goggle designs such as Carbonvision, Strategy, Stealth or the unique design of Livewire Sealed Eyewear.
Uvex by Honeywell safety glasses is designed to perform in industrial work environments. Lens coatings on these goggles, glasses, and shields block glare under critical conditions. Check the features of any eyewear you are considering ordering. Hydroshield technology or UV protection may be built-in and you may have the option of specialized fog- or scratch-resistant coatings.
Once you select a style of Uvex safety glasses, be sure to check the frame dimensions. If the eyewear will fit your face and achieve an appropriate seal, Safety Gear Pro makes it easy to customize a pair. Select frame color and decide whether to fit frames with prescription lenses that stand up to rigorous safety standards.
Uvex FAQs
Which Uvex Safety Glasses Are the Best?
The best safety glasses depend on your needs. For example, you may want a pair of Uvex safety glasses with side guards if you expect to be working with fine particles or dust. Many people choose Uvex goggles if they expect to be making fast movements such as while playing sports.
How Can I Make Sure My Uvex Glasses Will Fit?
All Safety Gear Pro products have their dimensions on their product pages. The easiest way to make sure a pair of frames is a good fit is by using an existing pair of glasses. Follow our guide for additional sizing information.
What Does ANSI-Rated Mean?
The American National Standard Institute is an organization that helps establish standards for consumer products. This includes ensuring the items are sufficiently safe. ANSI-rated glasses have met the requirements for their ability to protect your eyes. Check the product page for additional details on a specific product's ratings.
I Need a Prescription, Can I Get It in Uvex Goggles?
Yes, many Safety Gear Pro glasses and goggles, including ones made by Uvex, can be fitted with prescription lenses. When you select your glasses or goggles, choose the "Add Prescription" option. Then, select your lens options and enter your prescription information.
Does Uvex Make Safety Sunglasses?
These are several pairs of Uvex safety glasses with sunglass tint. Additionally, when you select a pair of frames and choose the prescription lens option, you can choose to have tinting added to your glasses. This is available for most Safety Gear Pro glasses.