The American Academy of Ophthalmology reported that 90 percent of all eye injuries occurred because workers and athletes did not wear Rx safety glasses or any type of eye safety protection for that matter. There is no set time for eye injuries, as they can occur anywhere — at work, at home, or outside.
By law, companies are required to supply their workers with safety glasses, but not many people are aware about the importance of protecting one's eyes. Did you know over 40% of vision-related injuries that occur each year are due to recreational activities such as riding a motorcycle or playing sports such as ice hockey?
For this reason, people need to invest in a quality pair of safety glasses to offer their eyes protection. How to select the right eye safety glasses is the first question asked by people searching for protective eyewear. If you have been asking the same question, follow this "how-to" guide to make the right selection:
1) Understand the Types of Hazards You Will Encounter
To make the right decision, you need to understand the types of hazards you will encounter. Here is a list of hazards you may encounter at work or outside:
Impact– This includes large chips, particles, dirt, fragments, riveting, drilling, machining, grinding, and more. People who work in construction or manufacturing are at risk of sustaining an eye injury. Construction workers and eye safety go hand in hand!
Motorcyclists, mountain climbers, bikers, hikers, shooting enthusiast, and more need to protect their eyes from dirt or particles they may encounter on their journey. Their require prescription sports goggles or Rx motorcycle glasses, or shooting glasses for shooters to protect their eyes.
Heat– Welders or people working with welding, casting, pouring, gas cutting, and hot dipping require protective eyeglasses. If they do not wear safety goggles on their eyes while working, they expose their eyes to molten metal, hot sparks, and intense heat.
Chemical– Professions involving degreasing, chemical handling, and plating require eyeglasses safety. Lab technicians require lab goggles, as they handle chemicals and dangerous substances regularly.
Dust– Buffing and woodworking are two activities that require people to wear safety eyeglasses to protect their eyes from harm. People with sensitive eyes or allergies may need to wear a respirator mask as well as safety goggles to minimize their exposure to dust and particles resulting from cutting and chopping wood.
Optical Radiation– Welding, torch cutting, sunlight and glare, and laser work require workers to wear safety goggles, as the bright light can cause harm to their eyes. Workers whose job requires them to work in broad daylight should also invest in a pair of high-quality protective eyewear.
In some professions, encountering more than one hazard may be true. It is important for people to recognize the multiple hazards, and then make the right choice on what type of protective eyewear is right for them.
2) Know the Types of Different Lenses Incorporated in Protective Eyewear
Once you have a clear understanding on the different types of hazards that require protective eyewear, you need to learn about the three different types of lenses available. They are:
Glass– Safety goggles with glass lenses are uncommon. In fact, this may be the first time you are hearing about them. These safety glasses are only used under special circumstances. The downside to purchasing these safety goggles is that lenses are prone to scratches and if dropped, they can shatter.
Plastic– Plastic lenses do not break easily if dropped, they are lightweight, and they are easier to put on. Like glass lenses, they all scratch easily.
Polycarbonate– These lenses provide the wearer with greater and increased protection than the other two. They are lightweight and welders usually wear these safety glasses with polycarbonate lenses. Wearers can coat the lenses to prevent the entry of ultraviolet rays into the eye.

3) Visit Your Eye Doctor for an Eye Test
Before buying safety eyeglasses, you need to visit your eye doctor. Your eye doctor will determine if you have poor or good eyesight. If you already know you have poor eyesight and you wear contact lenses or eyeglasses to help you see, you need to place an order for prescription work or sports goggles.
4) The Safety Glasses Comply with the ANSI Standard
The last and final step is to ensure the safety goggles comply with American National Standards Institute. Non-prescription eyewear needs to comply with the "Z87" or "Z87+" and prescription eyewear needs to comply with the "Z87-2." You will find the mark on the temples and the frame.
Select protective eyewear after determining the reason you need them and follow this guide to help pick the right safety glasses.
Related Articles
---
Best Safety Glasses
Titmus safety glasses made by UVEX by Honeywell are a best-selling style. These rectangular wraparound frames feature foam cushioning inside the top of the frame front. Full-rim frames can accommodate most prescriptions, including progressive lenses. The SW06E safety glasses with side shields meet ANSI Z87.1-2015 requirements for impact protection.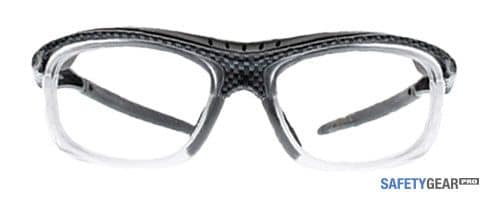 The ANSI Z87.1-rated version of the Financial frames from Global Vision is a cost-effective and protective pair of safety glasses. The patterned black and gray upper frame and temples of the Financial style add a stylish touch to these wraparound rectangular glasses with integrated side shields. Many construction workers appreciate the quality and affordability of these safety glasses.
3M ZT200 Safety Glasses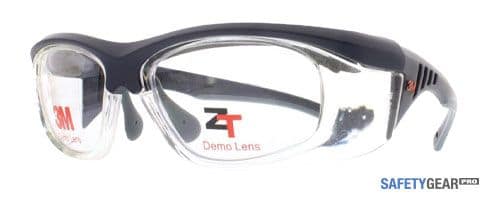 One of the most respected equipment brands licenses high-quality safety glasses. The ZT200 style from 3M is ANSI Z87.1-2010 certified. Rectangular lenses and integrated side shields protect wearers' eyes on construction sites and in other hazardous environments. The 3M ZT200 frames accommodate a wide range of prescriptions, which is a determining factor for the best safety glasses.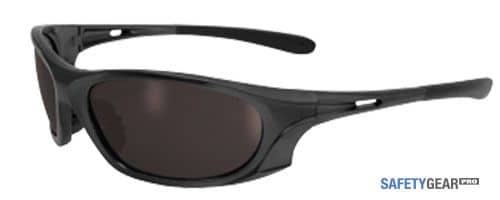 Another value-oriented style from Global Vision is the wraparound rectangular Ridge CF SM frames. This eyewear has shatterproof smoke-colored polycarbonate lenses with a UV400 filter. Rubber nose pads and tips allow for comfortable wear with helmets and other personal protective equipment. Ridge CF SM frames only accommodate a limited range of prescription lens strengths.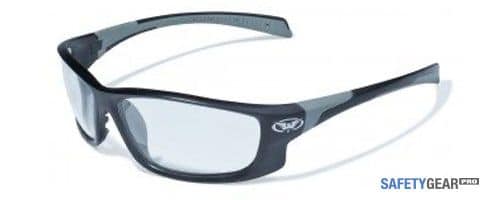 The affordable Officer prescription safety glasses by Global Vision are versatile full-rim safety glasses perfect for construction and other industrial applications. Rectangular black nylon frames with an ANSI Z87.1 rating are paired with shatterproof polycarbonate prescription or non-prescription lenses. The gray temples of this style are stylish and provide grip to keep eyewear in place.