The Occupational Safety and Health Administration sets rules and regulations intended to protect workers on the job. One of the requirements set forth by OSHA is that all workers must be provided with approved eyewear when working in a situation that could cause harm to their eyes.
Such situations can involve anywhere involving fine particles, chemicals, airborne hazards, gases, light radiation and more. Employers are expected to ensure that all workers have all the protective equipment they need for a given situation.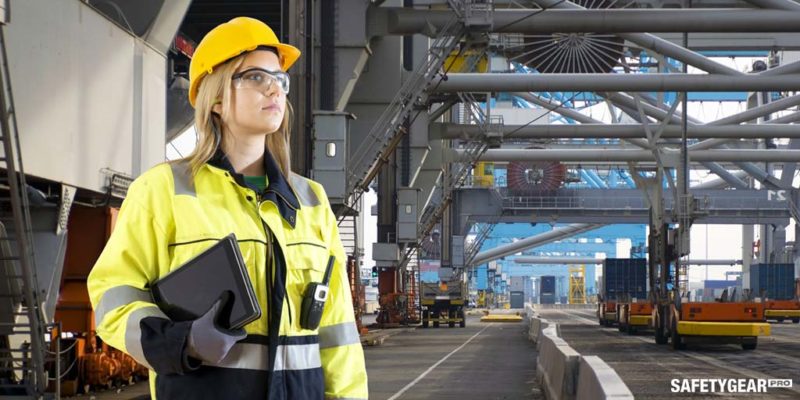 It is important for workers to understand their rights under OSHA to make sure they are being properly protected. Furthermore, some workers prefer to provide their own safety glasses that may be more comfortable and usable than employer-provided ones.
The Importance of OSHA
At times, OSHA regulations can seem cumbersome and excessive. However, it is important to note that the reason the agency exists is for your protection. Prior to its establishment, workplace fatalities and major injuries were common. During OSHA's existence, they have declined dramatically.
One of the most important ways that the agency protects workers is by requiring workplaces to provide safety equipment. Sadly, despite the ready availability of personal protective equipment from providers such as Safety Gear Pro, many workplaces still fail to adhere to guidelines. Understand your rights and expect them to be provided for.
OSHA 1910.133
OSHA regulation 1910.133 deals with eye and face protection. If a pair of safety glasses are OSHA-approved, that means they have been tested and meet the standards set within this rule. For example, the Titmus SW06E is a popular pair of safety eyewear that meets the rules set by OSHA.
1910.133 is extensive and covers requirements for protective equipment, when PPE needs to be used, requirements for employers, marking requirements and more. These rules are in-depth and help to ensure that worker's faces and eyes are safe on the job.
The standards for eyewear included under OSHA's rules are not directly from the agency. Instead, they use ANSI Z87.1 rules. These are standards set by the American National Standards Institute. There have been several revisions to ANSI's standards and OSHA is typically one or two revisions behind the latest standards.
Checking To Make Sure Your Glasses Are OSHA Approved
Part of OSHA's rules is that the glasses need to be clearly indicated whether they are approved or not. You can check the lens to determine if they meet Z87.1 or not. Keep in mind that the standard is complex and covers protection from impacts, dust particles and more. Not all glasses meet the same standards. Make sure to check the specific rating information to determine if a pair is right for you.
You can find numerous pairs of OSHA approved safety glasses at Safety Gear Pro. All our product pages include clear information about which ratings each pair of glasses have approved. We also offer prescription safety glasses in a variety of frame styles. Explore our catalog today to find a pair you enjoy.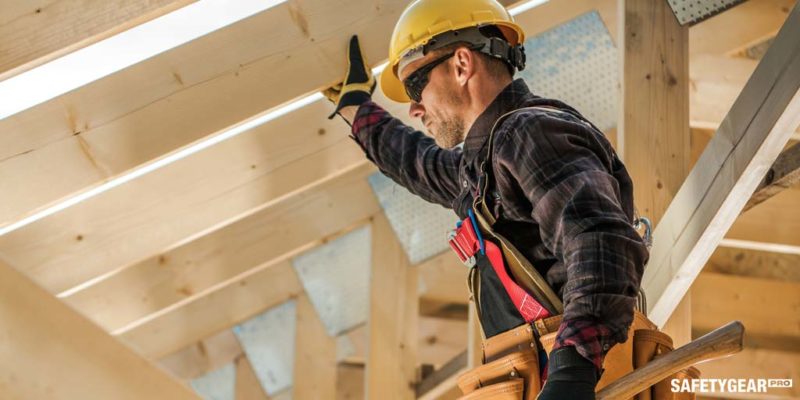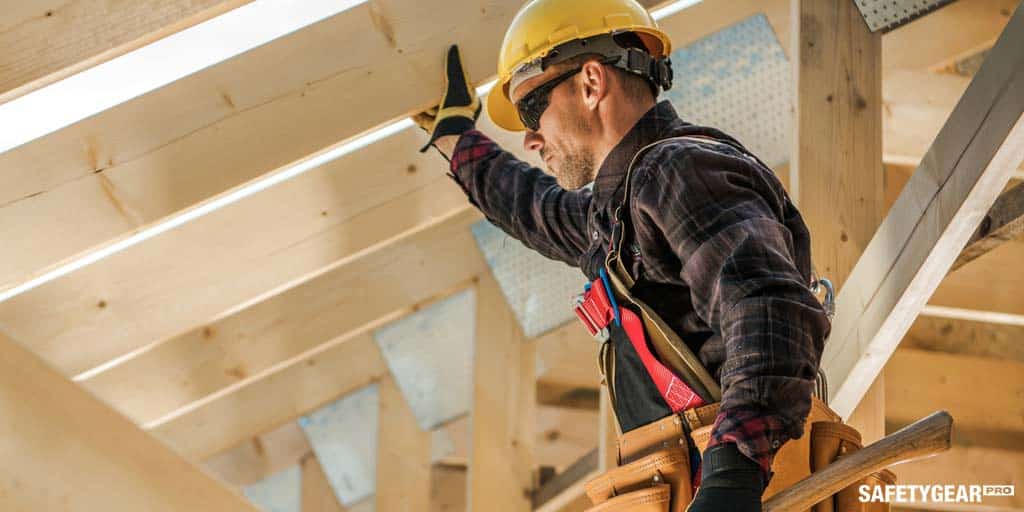 Top Choices in OSHA Approved Safety Glasses
At Safety Gear Pro, we have a diverse selection of safety glasses that comply with OSHA regulations. You can find detailed information on every product page including ANSI ratings. Of course, we know that the choice can be a little overwhelming at first. To help you get started with your search, the following are a few of our most popular products in this category.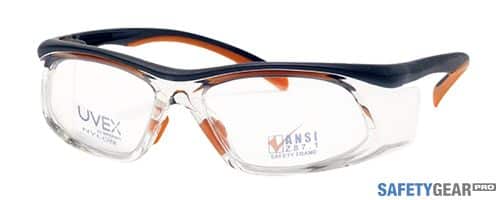 If you are looking for a comfortable and durable pair of OSHA approved safety glasses, these are among our most popular. They feature a relatively conventional black, orange and clear design that can fit in at almost any workplace. Additionally, they are made by UVEX, a well-known and trusted brand in the Honeywell family.
You can adjust the temples to find the perfect fit for your head. Additionally, they are compatible with prescription ANSI-rated lenses. They are even progressive friendly if you need correction for multiple focal lengths. The package includes two replacement nose pads.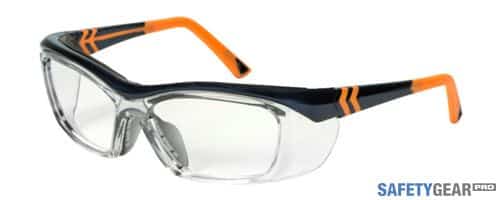 The OnGuard 225S frames are another popular option for prescription safety glasses. They can accept prescription polycarbonate lenses that comply with the ANSI Z87.1 standard. Additionally, they feature a replaceable nose bridge and dust dams. They are non-conductive and have easily adjusted temples.
They feature a sleek design with a black browline and clear frames. Additionally, the temples have high-visibility orange accents. These are a good choice for any worksite.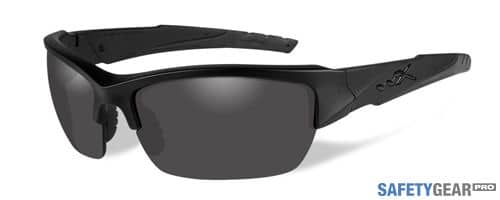 These safety glasses are a little different from the above two options. They feature a black, wraparound style that looks as good walking around town as it does on the worksite. The WileyX Valors are particularly popular for tinted, sunglass lenses with broad-spectrum protection. With their wraparound format, you can be confident they will stay firmly in place no matter how much you move around.
They are OSHA approved and comply with ANSI high-velocity and mass-impact standards. Additionally, like the other glasses, they can work as prescription safety glasses. You can choose from a selection of tint options to fit your visibility and UV-protection needs.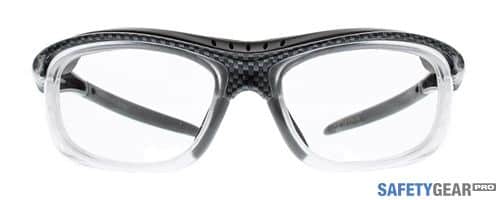 This is another popular option for safety eyewear. They meet the ANSI Z87.1 standard for use in industrial applications, meaning they are OSHA approved. Additionally, they are designed to be extra tough. They have shatterproof lenses and scratch-resistant coating. The inside foam padding makes them more comfortable while also adding some impact damping.
These safety glasses have a simple, classic, unisex design. The temples, nose guards and brow are black, high-strength plastic and the frames are clear. This is a pair of glasses you can count on every day.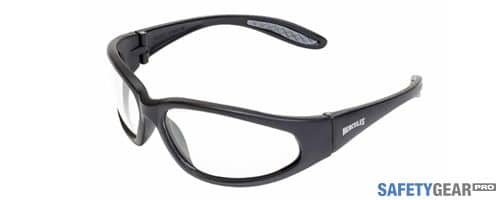 These prescription safety glasses are a slight departure from the mold. They have a black, wraparound style. However, unlike the WileyX glasses, they feature fully enclosed lenses and a more rounded style. With the matte black nylon frames, these will look good on just about anyone.
Like the other glasses, they are OSHA approved. They meet ANSI Z87.1-2010 standard for industrial applications. Their rubber ear pads help to make them extra comfortable, even for long-term wear. You can't go wrong with these glasses.
OSHA Approved Safety Glasses FAQs
What Are Some Other Safety Ratings?
As mentioned, the specific standard for eyewear is created by ANSI. Other ratings include the Canadian Standard Association Z94.3 and standard for other countries. The military also has its own set of ratings, especially for ballistic impact. On our product pages, these are indicated in the product information. For example, the 3M D490 glasses meet the ANSI and CSA ratings.
Do Employers Have to Provide Prescription Safety Glasses?
Although employers much provide protective eyewear, they do not have to offer prospection options. Some employers may pay for appropriate prescription lenses. However, many will also provide eyewear that can fit over corrective eyeglasses. Many workers prefer to purchase prescription safety glasses as they are more comfortable than wearing lenses under safety goggles.
Do I Need OSHA Prescription Safety Glasses?
If you are working in an environment that may be hazardous to your eyes, you are required to have OSHA approved safety glasses or goggles. Additionally, if you need corrective lenses, you must be wearing some form of prescription lenses. Whether these are a single pair of safety glasses with prescription lenses or goggles over glasses is up to you.
What Are Some of the Best OSHA Safety Glasses?
At Safety Gear Pro, we offer a diverse array of safety eyewear. If you want a pair with protective sides and OSHA approved lenses, consider the RX-Z CL glasses. Another popular pair from our catalog is our Financial frames. Again, these meet the ANSI ratings. They have a lower-profile style but still offer plenty of protection.
Which Frames Take Prescription Lenses?
Nearly all frames in the Safety Gear Pro catalog can have prescription lenses added to them. Simply select the "Add Prescription" option on the product page and customize your lenses. Make sure to select the ANSI-rated polycarbonate lens material. When you are ready, you can enter, upload or send your prescription information.