According to the American Optometric Association, basketball is the leading cause of eye injuries in individuals between the ages of 15 and 24. While 1 in 18 college athletes will sustain an eye injury, the average rate of injury for basketball players is 1 one 10. Recreational, competitive or professional players should wear basketball goggles or glasses. This guide will point you toward eyewear that is designed for the unique physical demands of navigating the basketball court and shooting baskets.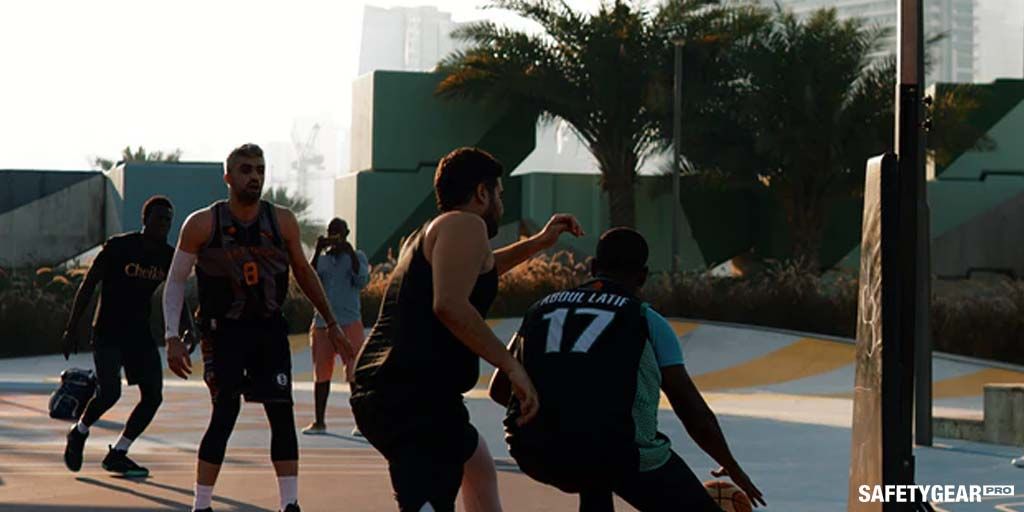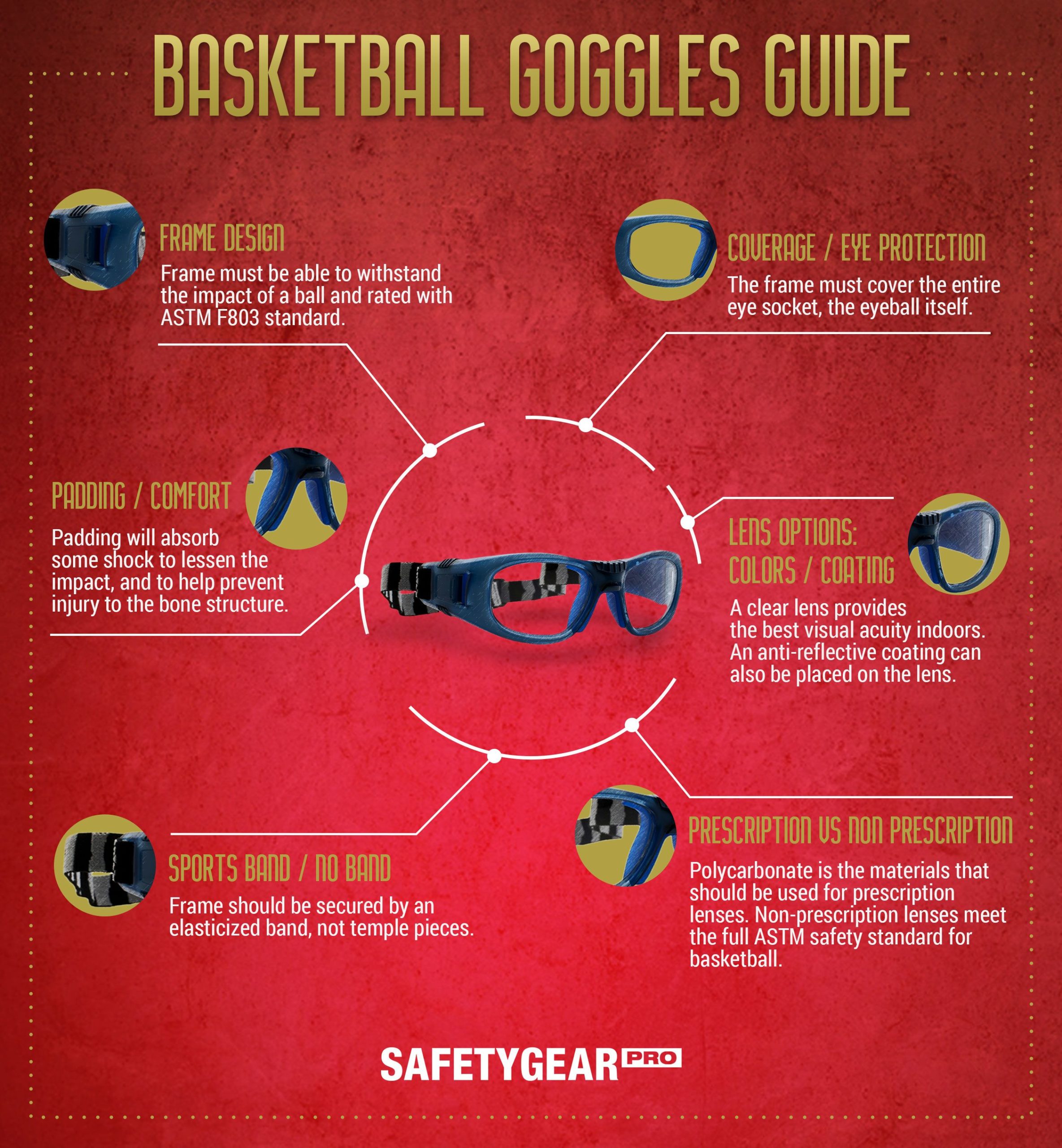 Look for Complete Eye Coverage
The primary eye injury risk when playing basketball is high-intensity physical contact with other players. Goggles can prevent the hands or arms of one player from accidentally striking the eyes of another player.
Lenses should cover your eyes and frames should be cushioned to protect the socket and surrounding bone structure. Once you adjust the band, goggles should provide a close enough fit that another player's fingers should not be able to break the seal. The current ASTM International basketball eye protection standard for goggles is F803-19.
Some common eye injuries that can result from basketball include corneal abrasion, a detached retina, inflamed iris, traumatic cataract or fractured eye socket. The professional player Kareem Abdul-Jabbar suffered a scratched cornea before becoming known for wearing protective goggles on the court for the rest of his long career.
Achieve a Comfortable and Secure Fit
Sports eye protection must provide a good fit to be effective. Goggles may have foam padding for comfort or a facial cavity seal for enhanced eye protection. In addition to providing more coverage around the top, bottom and sides of lenses than conventional glasses frames, goggles also keep out ambient light and glare.
Basketball players prefer to wear goggles because elasticized head straps or comfort sports bands keep this eyewear in place. Goggles that are the right size and have been securely strapped on should not require further adjustment, even after you have been maneuvering, passing and jumping.
Some convertible eyewear comes with temples and a retainer strap. No matter which design you choose, make sure that any goggle-style eyewear is ventilated for comfortable, non-slip wear. An anti-fog coating can also help to keep your vision clear while you shoot hoops on an indoor or outdoor court.
Customize Sports Goggle Lenses
The full coverage that goggle lenses provide on the outside corresponds to complete protection on the inside. Some styles of sports goggles can accommodate prescription lenses or inserts. Whether you are looking for goggles that are corrective or just protective, you can customize this eyewear with clear or tinted lenses.
Clear lenses allow for optimal visual acuity indoors, particularly when paired with an anti-reflective coating. These coatings may make it necessary to clean lenses more frequently. Goggles with yellow tinted lenses are also popular for reducing glare and increasing contrast and depth perception.
Not enough athletes recognize the importance of wearing eye protection while playing basketball and other sports. Over 600,000 sports and recreational eye injuries are reported every year, even though up to 90% of sports-related eye injuries can be prevented with the right protective eyewear. Young players run a particular risk of injury, and sports are the leading cause of eye injuries for school-aged children.
A 2014 American Optometric Association Eye-Q survey found that only 46% of parents provide children with athletic eye protection and just 21% of adults wear eye protection when playing sports. Protect your eyes from preventable injuries with a stylish pair of basketball goggles.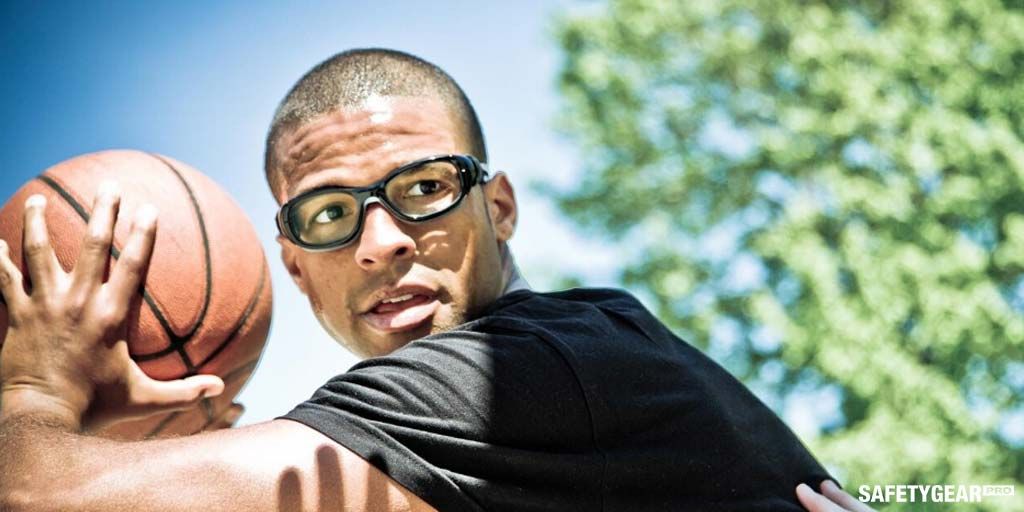 FAQs
Why do basketball players wear goggles?
Goggles provide complete coverage for eyes and have a band or head strap for a secure fit. This eyewear fits close to the face with a cushioned seal or soft lining to enhance comfort and absorb impact. Prescription or non-prescription basketball eyewear should meet sport-specific ASTM International eye safety standards.
Can I get prescription basketball goggles?
Some goggles for basketball are compatible with prescription lenses or inserts. Most goggle lenses have either a spherical or cylindrical shape, and the right design for your prescription reduces distortion. While some sports goggles are sold in step diopters, eyewear with an exact prescription enhances visual acuity on the court.
Are goggles better than glasses for basketball?
Vision safety specialists recommend goggles with a band or strap over glasses with arms or temples. Goggles are more likely to stay in place as you move and jump than glasses. This style of eyewear also provides full coverage and cushioning from impact, reducing your risk of eye contact injuries.
Can I play basketball in glasses?
If you prefer to wear basketball glasses, several styles of sports frames are suitable for this sport. Shield-shaped frames with a polycarbonate front and lenses and temples made of a different material are popular for this sport. Make sure any eyewear you choose meets ASTM International eye safety standard F803-19.
Which NBA players have worn goggles?
Kareem Abdul-Jabbar is the most well-known wearer of basketball goggles in basketball history. Abdul-Jabbar suffered two eye injuries before wearing protective goggles for the rest of his career. Kurt Rambis and Horace Grant wore prescription goggles for vision correction. Sports goggles are also standard equipment for other high-impact, high-intensity sports.