WileyX PT-1
$78.00 – $118.00
This product (when chosen for prescription lens), comes with a prescription insert.
SKU:

WX PT-1
Categories: ANSI Rated Industrial Safety Eyeglasses, ANSI Rated Prescription Safety Eyeglasses, Bifocal Sports Sunglasses, Brands, Fashion Sunglasses, High Performance Sports Sunglasses, Mens Fashion Sunglasses, Non-RX Eyeglasses, Performance Safety Eyeglasses, Prescription Beach Volleyball Sunglasses, Prescription Cycling Sunglasses, Prescription Eyeglasses, Prescription Fishing Sunglasses, Prescription Golf Sunglasses, Prescription Mountain Biking Sunglasses, Prescription Safety Eyeglasses, Prescription Sport Sunglasses, Prescription Sports Eyeglasses, Prescription Sunglasses, Prescription Tennis Sunglasses, Rx Military Sunglasses, Safety Bifocal Eyeglasses, Safety Eyeglasses, Specialty Safety Eyeglasses, Sports and Performance Sunglasses, Standard Safety Eyeglasses, Tactical Sunglasses, Water Resistant Hydrophobic Sports Sunglasses, Wiley X, Wiley X Ballistic Sunglasses, Wiley X Changeable Sunglasses, Wiley X Harley Davidson, Wiley X Industrial Rx Safety Glasses, Wiley X Motorcycle Glasses, Wiley X Prescription Safety Glasses, Wiley X Prescription Shooting Glasses, Wiley X Prescription Sunglasses, Wiley X Sunglasses
Tags: changeable series, Prescription inserts, PT-1, Wiley, WILEYX, WileyX changeable, WileyX Prescription, WileyX PT-1, WileyX sunglass
Description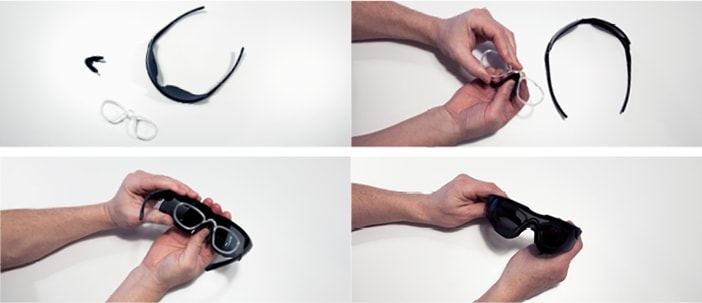 Product Detail: Eye Size (PTX Rx Insert): 44 | DBL: 25
Head Size: Small to XXLarge
If you've been searching for the Wiley x interchangeable sunglasses, then the Wiley X PT-1 is a great choice. If you're looking for large sunglasses that offer you protection as well as style, then the Wiley X PT-1 is the perfect choice. These sunglasses are ideal for shooting enthusiasts. With increased resolving, refractive and prismatic powers, they offer better visuals and clarity than any other sunglasses. And with their resistance to high-impact projectiles, your eyes will remain safe and protected at all times while you're wearing them.
Includes the following:
PTX Rx Insert
Protective Storage Case
Microfiber Cleaning Cloth
Anti-Fog Wipe
Leash Cord
Instruction Card
Product Features:
Shatterproof Selenite™ Polycarbonate Lenses that Meet the MIL-PRF-32432(GL) Ballistic Standards. ANSI Z87.1-2010 High Velocity and Mass Impact Standards, and EN 166 FT at High Speed at Temperature Extremes Standards, and US Federal OSHA 1910.133(b)(1)(i) Standards
100 Percent UVA/UVB Protection With Distortion Free Clarity
T-Shell™ lens coating resists scratching in extreme environments
Wrapback™ Design for Maximum Peripheral Vision
Adjustable Take Flight Nose Piece Accommodates any Face/Nose Bridge
Clear Lens for Night, Indoor, Overcast, and Very Low Light Conditions: Light Transmission 90%
Light Rust Lens Enhances Medium-Low Light; 53% Light Transmission
Smoke Grey Lens Provides Max Glare Reduction with No Color Distortion: Light Transmission 15%
Compatible with Wiley X's Prescription Lens Carrier (PTX)
Related products