Rec Specs Youth Sports Glasses
Filter by
Rec Spec Glasses & Technology
Make the most of your Get Fitted Kit and effectively dispense Rec Specs to patients in three easy steps. First, start the conversation by asking your patient what kind of sports they are involved in. Second, determine the best frame size and fit for the patient's face shape and activity. Third, order the complete solution with Rec Specs lab, which comes with a lifetime guarantee.
Are you or your patients not convinced that Rec Specs are as durable as they claim to be? The Take a Swing demonstrator allows you to show your patients in a fun way just how effective this eyewear is at resisting impact and protecting the eyes. These glasses can even withstand the impact of a mallet with a baseball attached to it swung at full force.
Rec Specs Youth Glasses Features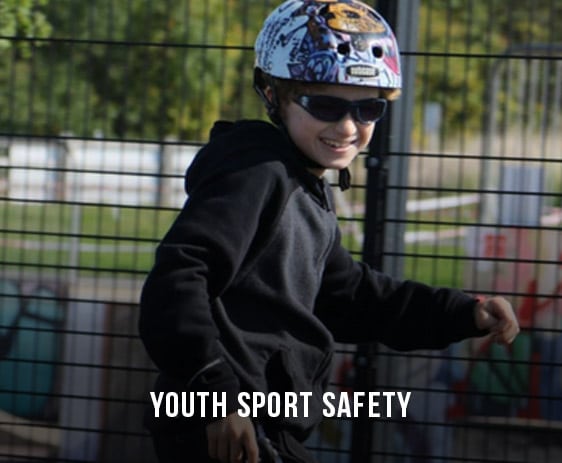 Most children participate in a sport at some point in their childhood, and kids are especially vulnerable to sports-related eye injuries since their bodies and brains are still developing. Kids Rec Specs protect young eyes from debilitating eye injuries or blindness that can affect them for the rest of their lives.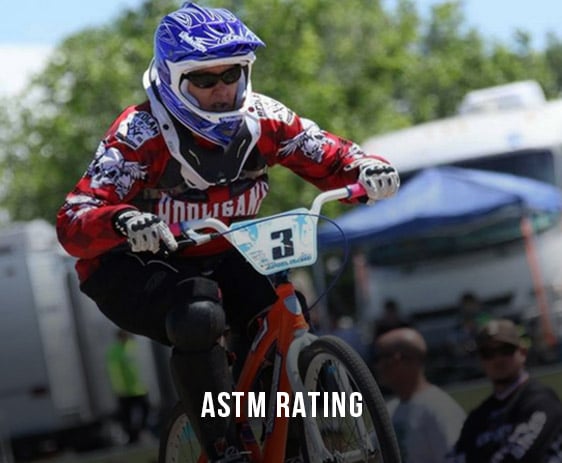 Rec Specs glasses are tested to make sure they meet or exceed the standards set for the ASTM F803 rating. Polycarbonate lenses and durable frames ensure youth eyewear can pass the High Velocity Impact Resistance test that is a part of this rating.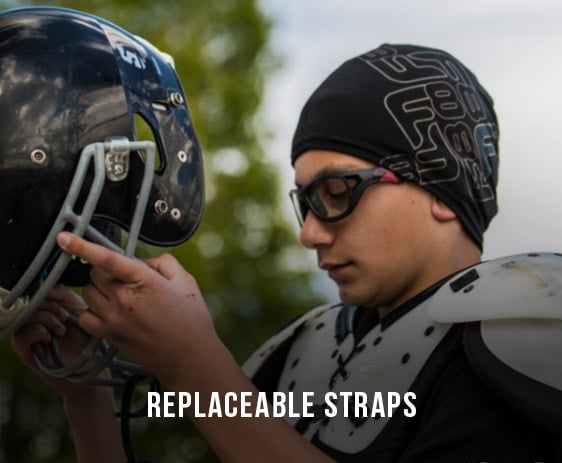 The last thing parents want is to have to buy their child a completely new pair of goggles because of a broken or misplaced strap. Fortunately, Liberty Sport sells replacement straps that can be easily attached to your child's eyewear.
While many children play sports with only their contact lenses or choose to play without any eyewear at all, this leaves them extremely vulnerable to an eye injury. Approximately 33,000 people experience a sports-related injury each year, 90 percent of which are preventable with the proper eyewear. An accident can happen at any time, especially when playing sports that involve fast, flying projectiles such as basketball, racket sports, golf, hockey, baseball, soccer, and lacrosse. Investing in protective sports eyewear for your child is essential for allowing them to have fun without fear of a serious eye injury.
Sun Protection
In addition to protecting your child's eyes from high-velocity impact, Rec Specs glasses are designed to shield their eyes from damaging UV rays. If your kid plays outdoor sports, this is an absolute must. Even if your child doesn't require glasses with a tint, there are clear lenses available that shield 100 percent of UVA and UVB rays. Photochromic lenses change their tint depending on how much sun is available, and polarization technology helps reduce glare and increase contrast in extra bright conditions.
Stylish Frames
Whether shopping for protective sports glasses or high-performance goggles, Rec Specs come in a wide variety of frame and lens styles. Your child's protective eyewear is only effective if they wear them, so it is important that you find a pair that they want to wear. The frames come in countless colors, including bold, fun colors such as hot pink or lime green. You can also find unique frame designs for your child to choose from such as skulls, stripes, and other fashionable graphics. With many options to consider, your child can find a design that they love and will feel excited to wear when game day comes.