Ray-Ban prescription sunglasses are known for their classic style, but this brand also offers updated takes featuring cutting-edge frame materials and lens technology. Every pair of Ray-Ban lifestyle sunglasses protects wearers' eyes from exposure to optical radiation.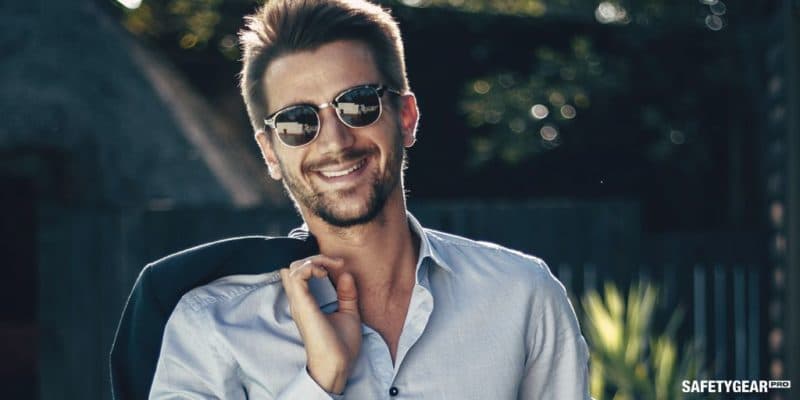 Classic and Updated Frames
Ray-Ban was founded in 1936 and introduced Aviator sunglasses with metal frames in 1939. The Wayfarer style debuted in 1956, followed by browline-style Clubmasters in the 1960s. These classic styles saw a resurgence in popular culture during the 1980s and remain popular today.
The Clubmaster style is ideal for small-to-medium face sizes. Medium faces may also get a good fit with Wayfarer frames. The New Wayfarer is a new take on the classic made of lightweight, rubberized material. The cylinder-shaped Daddy-O II are also popular for medium-sized faces. Wearers who have larger faces may prefer traditional or updated versions of aviator frames, such as the RB3025 Aviator Large Metal or the Aviator RB3689.
Sun Protection for Eyes 
Ray-Ban makes frames and lenses that protect wearers' eyes from damaging effects of optical radiation. The brand's sunglasses are designed to reduce the amount of light that strikes eyes from any angle, and Ray-Ban lenses or compatible prescription lenses block 100% of ultraviolet rays. The brand's polarized and Chromance lenses both block glare on the open road, water or snow.
Non-prescription Ray-Ban sunglasses come with proprietary advanced lens technology. From classic solid lenses to gradient, mirror, polarized and Chromance lenses, Ray-Ban excels at making stylish eyewear that provides 100% UV protection. Chromance, mirror and polarized lenses reduce glare and can enhance the appearance of certain colors, which may be beneficial during outdoor activities. Ray-Ban also makes a full line of styles with blue-light-blocking lenses to shield wearers' eyes from blue light emitted by backlit screens.
Ray-Ban Prescription Sunglasses
You can put a personal touch on any pair of Ray-Ban sunglasses or eyeglasses by selecting your favorite frames and customizing a pair of prescription lenses. This eyewear enables you to see clearly outside or inside, depending on your choice of clear, tinted or blue light filtering lenses. You can pair any color of frames with standard, polarized or mirror-tinted lenses to meet your visibility needs for outdoor wear.
FAQs
Related Ray-Ban Eyewear Articles
Ray-Ban Sunglasses Product Review Videos
Ray-Ban Sunglass Frames
Whether it is the Wayfarer, Clubmaster, Aviator or round frames, you can't go wrong with Ray-Ban sunglasses.
Ray-Ban Aviator Collection
The Ray-Ban Aviator is hands down the most recognized and most popular frame in the world today.
Ray-Ban Justin Review
Product review on the very popular Ray-Ban Justin sunglasses.
Ray-Ban Clubmaster Review
The Clubmasters became very popular among celebrities in the early 1980s and have been popular ever since!