RX Blue Ray Bans & Ray Ban Eyewear
BEST DEALS AND LATEST STYLES OF BLUE RAY BANS
Filter by
ONLY THE HIGHEST STANDARDS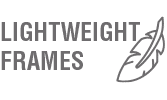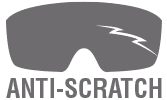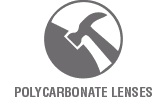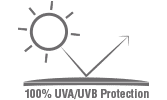 Categories related to Blue Ray-Bans
Find Your Perfect Blue Ray Bans & Ray Ban Eyewear
Blue Ray Bans AQs
How can I customize a pair of blue Ray Bans?
Browse a large selection of Ray Ban frames. You can choose blue-colored frames or frames that have blue plano or prescription lenses. Some blue lenses have photochromic or light-adjusting properties. Depending on the style, a pair of Ray Ban glasses may be compatible with single vision, bifocal or progressive lenses.
Does Ray Ban make blue frames?
Some plastic frame styles by Ray Ban are available in blue. If you like the classic look of Wayfarer sunglasses, check out the RB2185 Wayfarer II Classic in Blue on White. Several eyeglasses styles in the Ray Ban Optical collection such as the RX5228 also come in blue color options.
What are the advantages of blue tinted lenses?
Glasses that are fitted with lenses that have a blue tint can enhance contours and color perception while cutting down glare. Depending on where and when you plan to wear sunglasses or eyeglasses, you may prefer polarized lenses or light-adjusting lenses that darken within seconds of exposure to ultraviolet rays.
Which blue lenses by Ray Ban are photochromic?
Ray Ban Evolve lenses change color based on exposure to sunlight. Factor in the light conditions where you plan to wear Ray Ban eyewear that has photochromic lenses. You may prefer Light Blue/Dark Violet or Green/Blue plano photochromic Evolve lenses. Light-adjusting prescription lenses are also available in blue.
What are the features of Ray Ban Blue Light glasses?
Ray Ban makes lenses with an optical filter to reduce exposure to blue light emitted by backlit screens and indoor fluorescent lighting. These clear lenses are suitable for all-day wear and also protect against ultraviolet light exposure. It is also possible to get blue Ray Bans that block blue light.
Blue Ray Bans related Videos
WATCH & LEARN HOW OUR BLUE RAY BANS PROTECT YOUR EYES
Ray Ban Prescription Eyeglasses | Safety Gear Pro
Watch a review that includes several of the best-selling Ray Ban Optical styles. Jeffrey frames update the Wayfarer look for daily vision correction. The RX6936 frames are a take on the brand's classic Clubmaster frames that are suitable for most prescriptions. Other options include blue Ray Bans and the RX8412 and RX7017 frame styles.
Ray Ban Prescription Sunglasses | Safety Gear Pro
Ray Ban has made many of their sunglasses styles since the mid-twentieth century. Several looks introduced in the 1950s such as the Clubmaster and Wayfarer are still popular today. Find out more about the New Wayfarer. Ray Ban has also made aviator sunglasses since the late 1930s, a tradition that continues with the RB3689 style. Newer looks include the Daddy-O and RB3445 sunglasses.
Blue Ray-Ban Related Blogs
Learn more about the benefits of Blue Ray-Ban Glasses
Clear Vision & Style in Blue Ray Bans
FASHION, PERFORMANCE & STYLE IN RAY BAN EYEWEAR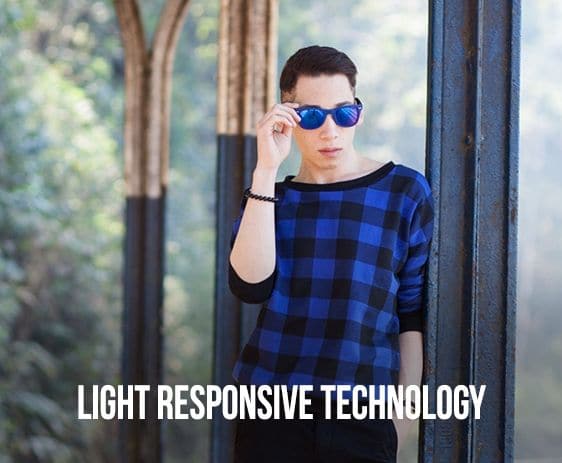 Light Responsive Technology
Ray Ban frames can support lenses with photochromic technology that darken in color when exposed to light. Glasses with blue lenses tend to be worn as sunglasses and Ray Ban blue sunglasses that darken automatically can further reduce exposure to brightness and glare.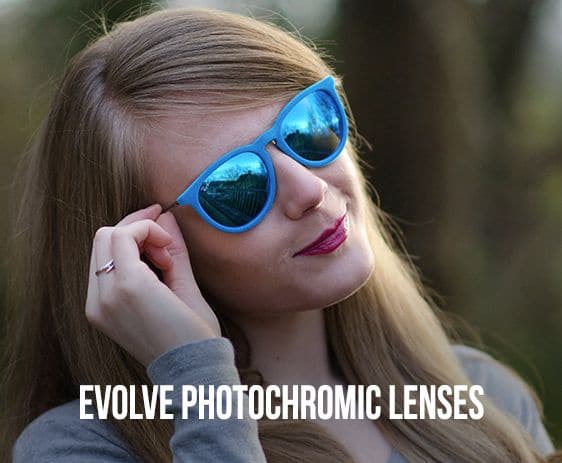 Evolve Photochromic Lenses
Ray Ban makes solid-color photochromic lenses that shift between a primary and secondary color. Two shades in the Evolve lens tint collection that feature blue tones are Green/Blue and Light Blue/Dark Violet lenses.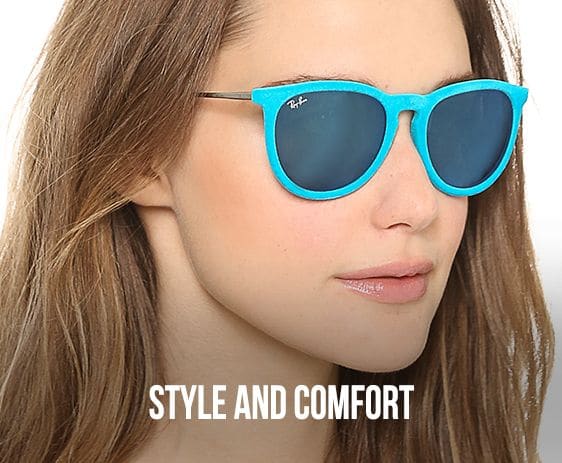 Glasses that have blue frames can be stylish choices for people with eye or clothing colors that match, are in the same color family or contrast with eyewear. Blue lenses have brightness-reduction and calming effects on wearers while enhancing sharpness and color perception.
Eyewear with blue color accents is likely to stand out, whether you prefer the color blue for frames, lenses or both elements of sunglasses. Ray Ban Aviator blue sunglasses can be ideal for sports that require tracking objects against a blue background, such as a golf ball against the sky. This shade is also helpful for improving depth perception in inclement weather.