RX Ray Ban Kids Sunglasses & Ray Ban Eyewear
BEST DEALS AND LATEST STYLES OF RAY BAN KIDS SUNGLASSES
Filter by
Ray Ban Kids Sunglasses Features
ONLY THE HIGHEST STANDARDS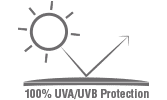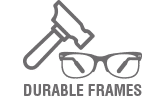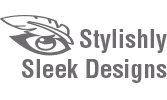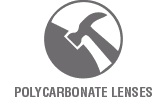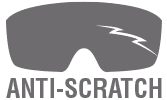 Categories Related to Ray Ban Kids Sunglasses
Find Your Perfect Ray Ban Kids Sunglasses & Ray Ban Eyewear
Ray Ban Kids Sunglasses FAQs
How do I order kids Ray Ban sunglasses?
Shop our selection of youth sunglasses or browse by brand. Search for Ray Ban Junior to turn up styles sized to fit young wearers. For non-prescription sunglasses, select a pair of frames with Ray Ban tinted lenses. Provide prescription measurements and select a tint color and finish for corrective sunglasses.
Are popular Ray Ban styles available in junior sizes?
Classic Ray Ban styles such as the Aviator, General and New Wayfarer are available in Junior sizes. The Ray Ban Junior Vista line also includes a wide variety of styles inspired by the brand's classic eyewear profiles. Choose from eyeglasses or sunglasses frames with Ray Ban or custom prescription lenses.
Can I get kids Ray Ban glasses with prescription lenses?
Many Ray Ban Junior styles of sunglasses are prescription-ready. Pick a frame design and specify prescription lenses. Depending on the frames, options for single vision or multifocal lenses may be available. Choose from a wide array of tint colors and finish options to personalize any pair of prescription kids sunglasses.
Which lens tints are available for kids Ray Bans?
Non-prescription sunglasses are available in pairings of frame and Ray Ban lens tint colors and finishes, including the brand's polarized and mirrored lenses. Prescription lenses may offer options for a choice of standard, gradient, mirror or polarized finishes and shades such as blue, brown, gray, green, purple, red or yellow.
What is the size range for Junior collection Ray Ban frames?
Ray Ban Junior frames are available in extra small, small, medium and large sizes with widths ranging from 100 millimeters up to around 112 mm. Match recent measurements of your child's face to the stated dimensions of a frame size to select the right size of Ray Ban kids sunglasses.
Ray Ban Kids Sunglasses Related Videos
WATCH & LEARN HOW OUR RAY BAN KIDS SUNGLASSES PROTECT YOUR EYES
Ray Ban Prescription Eyeglasses
Ray-Ban Optical frames are prescription-ready styles that are based on the brand's popular sunglasses. Watch a review that includes several bestselling models such as Wayfarer-inspired Jeffrey frames, the RX6936 version of Clubmaster frames, half-rim RX8412 frames and the RX7017 style with flexible temples. Similar Ray Ban kids sunglasses and eyeglasses designs are also available.
Ray Ban Prescription Sunglasses
Ray-Ban is best known for making sunglasses. Watch a review that starts with recent styles such as the Daddy-O and goes on to showcase classic looks such as the Aviator RB3689 frames, Clubmaster and the New Wayfarer. Ray-Ban offers a wide range of eyewear for adults and kids, making it easy to find a pair of sunglasses for kids that will provide a comfortable fit and complete protection from ultraviolet rays.
Learn more about Ray-Ban Eyewear
Clear Vision & Style in Ray Ban Kids Sunglasses
FASHION, PERFORMANCE & STYLE IN RAY BAN EYEWEAR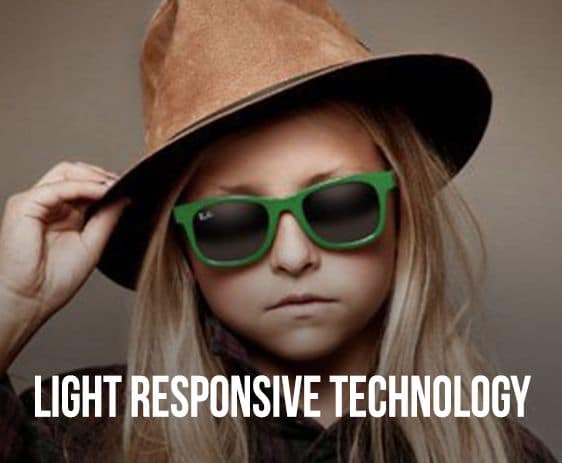 Light Responsive Technology
Prescription lenses that automatically adjust to light levels can be helpful for reducing brightness when kids go outside during a school day or spend time playing outdoors. A single pair of Ray Ban junior sunglasses with lenses that darken based on ultraviolet light exposure can minimize brightness and prevent multiple pairs of glasses from getting damaged or lost.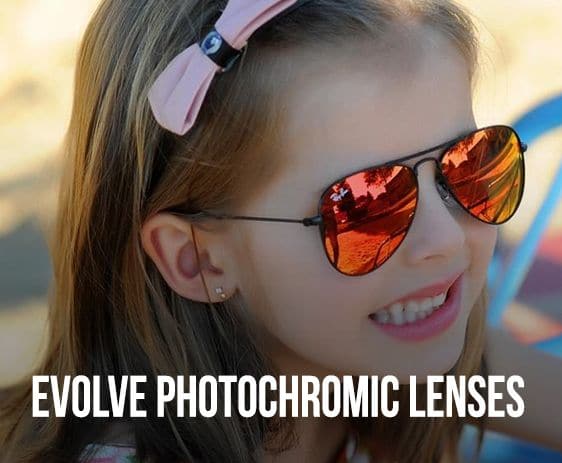 Evolve Photochromic Lenses
Some Ray-Ban Junior Collection styles are available with the brand's non-prescription Evolve Photocromic lenses. Choose from tinted lenses that darken and shift to another shade in the presence of UV light or lenses that appear clear inside and turn gray in daylight.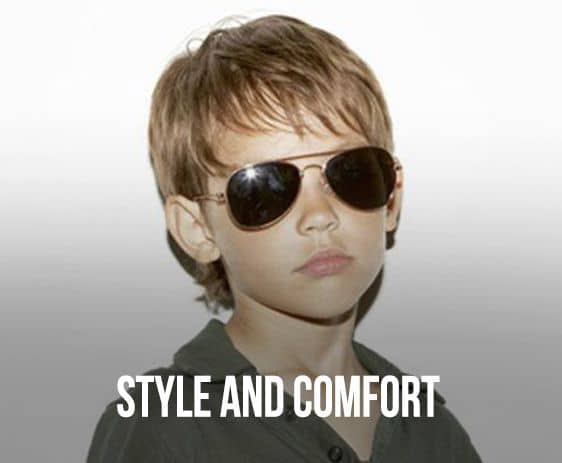 Whether you choose plastic or metal Ray Ban kids sunglasses frames, this eyewear is designed for timeless style and long-lasting comfort. Young wearers can appreciate the barely-there feel of contoured nose pieces on plastic frames and cushioned pads on metal frames.
Provide kids with comfortable and stylish sun protection. Most frames in the Ray-Ban Junior Collection can be customized with prescription lenses in a choice of tint colors and finishes.