Wiley X Active Lifestyle Sunglasses
BEST DEALS AND LATEST WILEY X ACTIVE LIFESTYLE SUNGLASSES STYLES
Filter by
Wiley X Active Lifestyle Sunglasses Features
ONLY THE HIGHEST STANDARDS IN PROTECTION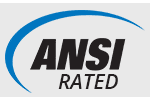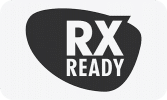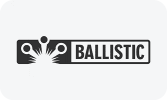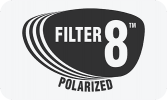 Wiley X Active Lifestyle Sunglasses Collections
Find the Perfect Wiley X Active Lifestyle Sunglasses for the job
Best Wiley X Active Lifestyle Sunglasses
Wiley X Saint ANSI Safety Sunglasses
Find out about the features of Wiley X Saint glasses. This eyewear is suitable for a wide range of outdoor activities and is ANSI- and OSHA-rated for wear on work sites. Saint frames come with interchangeable clear, rust and smoke gray filters for safety and style.
Wiley X Valor ANSI Safety Sunglasses
Wiley X Valor sunglasses are a great choice for sports and safety. This style meets ANSI Z87 standards for impact resistance. Wear these frames with the included smoke gray, rust or clear lenses for enhanced visual clarity and comfort. This eyewear is sold with a kit that includes a retainer, microfiber cloth and filters.
Stay Protected with the right Wiley X Active Lifestyle Sunglasses
ULTIMATE GLASSES FOR PROTECTION & PERFORMANCE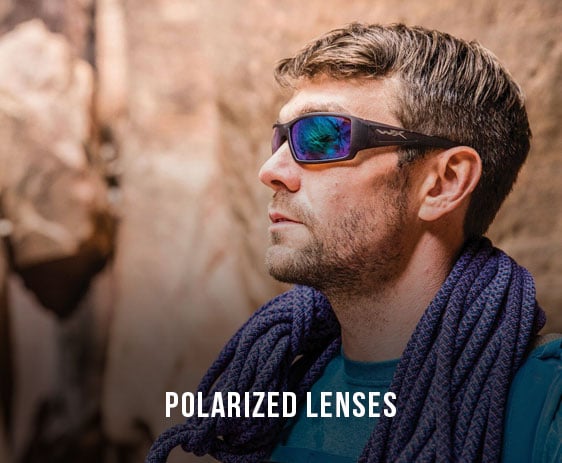 Active sunglasses with polarized lenses reduce glare. A laminate filter on lenses reduces the amount of light reflected horizontally that strikes the wearer's eyes. If you participate in snow or water sports or plan to wear sunglasses while driving, you may prefer Wiley X polarized sunglasses.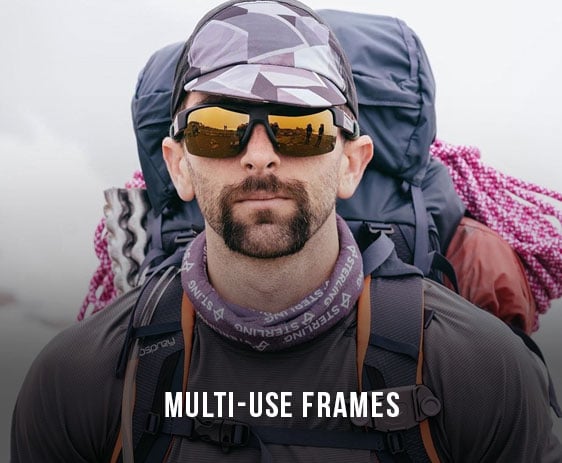 The durable design of Wiley X sunglasses is just as well suited for outdoor activities as working. If you plan to wear frames in environments where there is a risk of impact or other hazards, make sure to choose frames and lenses that have an appropriate safety rating.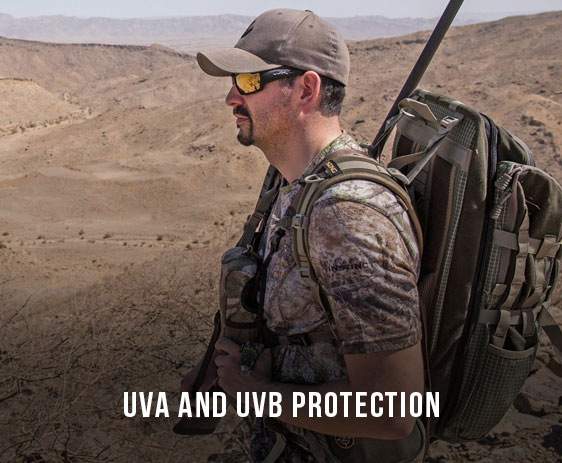 Sunglasses lenses should provide protection from ultraviolet light. Check to see how much light is blocked by tinted lenses to determine whether a particular eyewear design is the right choice for your active lifestyle. Prescription sunglasses combine sun protection and vision correction.
Sunglasses shield your eyes from exposure to ultraviolet light during outdoor activities. Whether you want a versatile pair of sunglasses for daily wear or are looking for eyewear suitable for sports, you can achieve the right balance of comfort, durability, and protection with Wiley X sunglasses.
Frames for Active Wear
Most Wiley X frames are made of polycarbonate for superior impact resistance. Glasses intended for wear during high-intensity activities should at least meet the basic ANSI Z87.1 impact standard if not the Z87+ high-impact standard. If you plan to wear these glasses on the job as well as during activities, look for styles that satisfy federal OSHA regulations. Some eyewear also meets the U.S. Military MIL-PRF-32432 ballistic standard.
The design features or accessories of a pair of frames may determine the comfort and ease of activewear. Check to see whether a style comes with a double-injected rubber nose piece or rubber temple grips. These features allow for a more secure fit that will not slip. An included leash cord may make it easier to keep track of glasses during high-intensity activities such as hiking, running or water sports.
Lens Tints for Any Activity
A variety of lens tint options may be available with each style of Wiley frames. Check to see the colors of the available lenses for each pair of Wiley X sunglasses. You should also factor in the light transmission and glare reduction provided by each lens shade as well as whether color distortion is a factor. In addition to standard tints, polarization may be an option for selected frames and lenses.
Wiley glasses feature shatterproof polycarbonate lenses and many styles meet high velocity and high-mass impact standards. Most sports frames are compatible with corrective lenses. Check to make sure the diopters or power of your prescription is within the range compatible with Wiley X prescription sunglasses.
Wiley X Active Lifestyle Sunglasses Range
Our Highest Selling Sport Prescription Glasses
Wiley X has always been the chosen partner of serious sportsmen. In fact, the dedicated product line of Wiley X Active Lifestyle sunglasses is the brand's tribute to their customers who like to live life on the edge.
When it comes to sport prescription sunglasses, our customers have repeatedly shown they trust Wiley X. The Wiley X Active Lifestyle sunglasses are our top selling range of eyewear products at [Insert your brand].
The designs in this product line are full of style as much as they are packed with performance features.
They are a perfect blend of aesthetics and toughness, letting you have the time of your life in the extreme environments you like to play in.
They are super-resilient and protect your eyes from the elements, debris, and unwanted light regardless of where you are.
Among all the sport sunglasses brands available in the market, Wiley X is winning more and more customers every day with its remarkable range of sport prescription sunglasses.
Wiley X Active Lifestyle sunglasses are built to give a complete protection to their customers' eyes in the harshest of environments. Whether you are mountain-biking near the Grand Canyon or snowboarding in the Alps, your Wiley X sport prescription sunglasses will give you the best vision and protection.
At Safety Gear Pro, we keep only the best of men's sports sunglasses in stock. Along with other sport sunglasses brands, we know we will always need Wiley X because that is the brand people most talk about these days.
As authorized dealers of Wiley X, we always provide our customers with authentic items, including eyewear of their choice and branded accessories. Many customers who buy from the long-range of designs in the Wiley X Active Lifestyle series also get one the brand's patented Facial Cavity Seals.
These seals can be applied to the inner lining of the frame. Made of comfortable and resilient material, the Wiley X FCS provides unlimited protection to your eyes. It keeps small flying objects, dust particles, wind, and rain out of the eyes.
The seal keeps peripheral light completely out of your vision so you can clearly see what lies ahead without the disadvantage of unwanted light coming in from the sides.
So, whenever we are asked which brand of men's sports sunglasses are the best, we always tell people it has to be Wiley X. Their sport prescription sunglasses are the toughest and their sport polarized sunglasses the meanest.
Place your order for a pair of Wiley X Active Lifestyle sunglasses here right now.

Frequently Asked Question about Wiley X Sunglasses for Active Wear
How do I order Wiley X sunglasses with prescription lenses?
It is easy to order prescription sunglasses from Safety Gear Pro. Simply select the style of sunglasses you would like and hit the "Customize Lens" button. After selecting the features of your glasses, you will be able to input you prescription or load a prescription from a previous order.
Can I get Wiley X prescription sunglasses with polarized lenses?
Yes, you can get polarized lenses with your prescription sunglasses. When customizing your lenses, in the second step you will select Sunglasses and then get a choice of sunglass options. Here you can pick between a standard tint, a gradient tint or polarized lenses.
What are the advantages of Wiley X polarized sunglasses?
Polarized sunglasses block light from certain angles. The coating on these sunglasses allow light approaching your eyes vertically in, but block horizontal light, such as glare from a lake or car hood. This is excellent for anyone who wants to do outdoor activities near water.
What color lenses should my Wiley X sunglasses have?
Different lens tints have different benefits. A grey lens tint is an all around great choice for normal sunglasses use. Brown and amber lens tint blocks blue light from screens that can strain your eyes. A yellow lens tint can provide higher contrast in low light and hazy environments.
What safety features can I add to my Wiley X sunglasses?
There are many safety features to consider adding to your sunglasses. Your sunglasses will come with UV protection, but you can also add polarization and extra clarity UV protection to filter even more harmful light. You can also choose anti-scratch and anti-fog features for your sunglasses.