Shop Wiley X Prescription Sunglasses
FIND LATEST STYLES OF WILEY X SUNGLASSES
Wiley X Standard Features
ONLY THE HIGHEST STANDARDS





Wiley X Eyewear Collection
FIND YOUR PERFECT PRESCRIPTION SUNGLASSES
FAQ Content - Wiley X Prescription Sunglasses
How do I get Wiley X prescription sunglasses?
Sunglasses by Wiley X are compatible with most prescriptions. Pick out frames and check size and lens options to determine whether eyewear is right for you.  Some styles are compatible with a limited range of prescription powers or come with one set of corrective lenses rather than interchangeable tinted lenses.
Do Wiley X glasses provide eye protection?
Most Wiley X eyewear are safety glasses suitable for work or sports. Almost every style meets American National Standards Institute Z87.1-2010 and EN 166 standards for high velocity and mass impact. Some styles are rated for ballistic impact resistance. Sunglasses by Wiley X also provide UVA and UVB protection.
Can I get polarized lenses in Wiley X sunglasses?
Some Wiley X styles come with polarized lenses or offer an option for lens polarization. Check to see the lens options that are available for a particular pair of frames. Polarized sunglasses lenses block light that is reflected horizontally to reduce glare on surfaces such as streets, water or snow.
Does Wiley X make high Rx frames?
Some Wiley X prescription glasses have rims that accommodate lenses with stronger prescriptions. Other styles may be limited to specified sphere and cylinder measurements. Check the description of any pair of frames you are considering for limits on lens power. Several Wiley X styles are suitable for high Rx sunglasses.
How do sunglasses by Wiley X fit?
When shopping for glasses online, you should always check the dimensions of frames. Eye size, bridge size and temple measurements will all determine how well a pair of glasses fits your face. Wiley X frames are also categorized by head size to make it easier to order safety sunglasses online.
Wiley X: Absolute Premium Protection
PRESCRIPTION SUNGLASSES BLASTED BY SHOT GUN.
The ultimate standard in protection for prescription sunglasses. Wiley X is obssesed with protecting your eyes in any condition. You will not find a better way to protect your eyes from high speed projectiles.
PRESCRIPTION SUNGLASSES BLASTED BY DERIES
Wiley X foam paded prescription sunglasses are designed for high volocity environments and protects your eyes from small particles. The foam padding encircles the lens and keeps out debries from all angles.
ULTIMATE PROTECTION & PERFORMANCE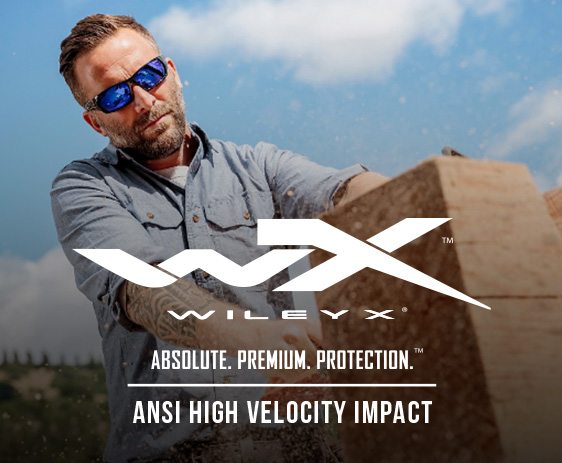 ANSI HIGH VELOCITY IMPACT
Wiley X frames and lenses withstand the impact of a .25mm diameter steel ball fired at 150 feet-per-second.
Furthermore, Wiley X frames are VO Ballistic rated. The frames and lenses canwithstand the impact of .15 caliber projectiles fired at 640-660 feet-per-second (spectacles) and .22 caliber projectiles fired at 550-560 feet-per-second (goggles).
Wiley X also meets European EN-166 standards. :The European EN requires that frames and lenses withstand a .22mm diameter steel ball fired at a rate of 5.1 meters-per-second.
PATENTED FACIAL CAVITY™ SEALS
If you live an active life style, or work in an active envornment, dust, pollen, and wind can cause long-term eye irritation, such as Dry Eye Syndrome. Peripheral light can also diminish optical clarity.
With Wiley X patented removable soft foam FACIAL CAVITY™ SEALS are equipped with vented, soft and sweatproof foam cushions to seal out wind, dust and debris.
No more tearing or dry, irritated eyes. With Wiley X, you can block out even the finest irritants and peripheral light, protecting the eyes and allowing polarized lenses to perform at peak levels.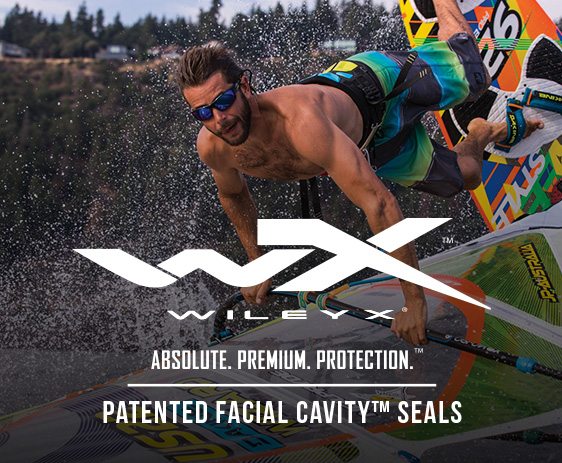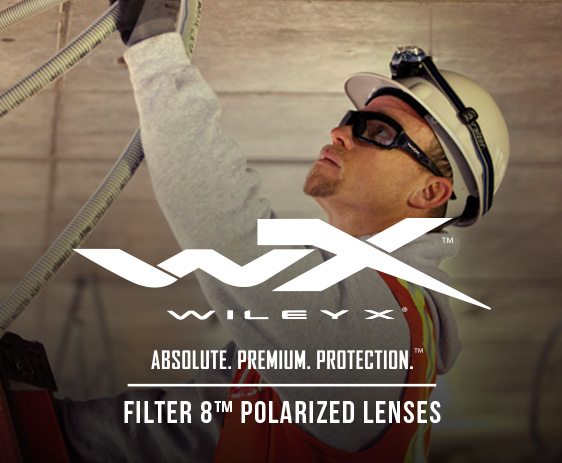 FILTER 8™ POLARIZED LENSES
Did you know that glare off the water and other light colored surfaces can diminish vision at critical moments and cause eye fatigue?
Avoid fatigue and improve vision with Wiley X FILTER 8™ POLARIZED LENSES, which combine eight layers of lens technology:
Two Slick™ hydrophobic coatings
Two Selenite™ polycarbonate lenses
Two T-Shell™ scratch-resistant layers
One Violet 4™ anti-reflective coating
Filter 8™ polarized film layer that creates 100% polarization with 100% UV protection
SING UP FOR ADDITIONAL DISCOUNTS OF UP TO 25% OFF
[contact-form-7 id="16954″ title="Subscribe"]
Wiley X Prescription Sunglasses: Perfect Vision & Safety
CUSTOMERS' FAVORITE IN PRESCRIPTION SUNGLASSES: WILEY X!
Many brands are competing in the global eyewear business, and only few truly understand the meaning of stylish design and reliable performance. Wiley X Prescription Sunglasses is certainly one of them.
Wiley X has built the brand in a number of market segments. They make superb eyewear for the corporate workplace. They manufacture the most durable eyeglasses for industrial workers. They have a dedicated product line for adventurers.
However, Wiley X prescription sunglasses are their most common and popular product line.
Wiley X Rx sunglasses provide the clearest vision with their Filter 8™ polarized lenses.
Wiley X frames and lenses are ANSI Z87.1 certified for extreme endurance.
Wiley X has something great ready for every customer's needs
Wiley X is an ISO 9001: 2015 certified company with reliable quality management for their products
Over the past 30 years, Wiley X is fast established among the leading eyewear manufacturers in the United States and abroad. Most of these competitors have been in the industry for several decades, and some even for a hundred years.
When Wiley X entered the industry, nobody gave it much attention. However, in a matter of a few years, it became a clear competitor for the leading brands.
Wiley X has beaten their competition due to their extraordinary commitment to research. With this research, they have been able to create performance features that no other brand is able to offer.
In turn, this resulted in such value for the money that customers find with no other brand. This is why every prescription sunglasses sale usually sells Wiley X prescription sunglasses more than any other.
BENEFITS OF USING RX SUNGLASSES
There are a number of benefits to using prescription sunglasses. Thanks to the trend of innovation and technology in the eyewear industry, prescription eyewear has become a blend of style and performance.
Prescription sunglasses allow you to wear the same pair of glasses indoors and outdoors.
With the modern polarized lenses technology some brands are using, you get the same clarity outside like you do in your room.
You can enjoy the benefits of two pairs of glasses for the price of one.
WHY CHOOSE WILEY X PRESCRIPTION SUNGLASSES OVER THE COMPETITION
Wiley X has made it to the top for good reason.
The brand has a state-of-the-art manufacturing plant where they are building the eyewear people around the world love to use.
They have a remarkable research facility where they discover new ways to improve their products.
Their product testing labs are making sure every pair of Rx sunglasses they make fits the high quality and performance standards they maintain.
Their innovative technology keeps improving their already extraordinary products.
PUT TO THE TEST: A SHORT WILEY X PRESCRIPTION SUNGLASSES REVIEW
Writing a Wiley X prescription sunglasses review is an easy exercise because you only have to write good things about the best in business.
We begin with the fact that Wiley X has a great impression on audiences around the world. Their sunglasses and all other products often win in a prescription sunglasses sale.
In terms of serving the global eyewear market, Wiley X has beaten every other brand. They serve all segments in the industry, covering:
personal and home prescription glasses
urban lifestyle products
outdoor and adventure sunglasses
sports eyewear
children's prescription sunglasses
industrial-level endurance Rx eyewear
military-grade tactical products
For each of these segments, Wiley X has developed dedicated product lines with multiple products. This is done so customers in every segment can find a pair that goes with their personal preferences of design and comfort.
In short, Wiley X prescription sunglasses are always going to come out shining in unbiased reviews.
GETTING PRESCRIPTION SUNGLASSES ONLINE
In the world of electronic trade, it has become convenient to get your favorite sunglasses online. Every major eyewear brand has authorized dealers around the world who are selling their products to the customer.
There is no shortage of places on the Internet where you will come across "prescription sunglasses sale!" banners. They may look appealing with huge "discounts" and official looking pictures.
However, you can never know what you will get once you have paid the money.
This is why if you are looking for a branded pair of glasses, such as Wiley X prescription sunglasses, you should always find your nearest authorized dealer of the brand.
BUY YOUR WILEY X RX SUNGLASSES FROM SafetyGearPro.com
At SafetyGearPro.com, we only deliver our customers authentic products and accessories. We are an authorized dealer of all Wiley X products, which means you can get any Wiley X product or accessory you need. They will be original and branded Wiley X products.
Our user-friendly website allows you to look through our inventory with a set of filters. This makes your search convenient. It lets you see specific combinations of features, avoiding the features you do not need.
Using our detailed features menu, you can even build the perfect pair of Wiley X prescription sunglasses with your Rx specs, design and color of your choice, lenses with your favorite features, and many such options.
Once you have built your perfect prescription sunglasses sale products and accessories, you can pay securely. Your order will be immediately sent for processing and you can expect delivery in 10 to 14 days.
Our customer support team is always available to answer your questions.
So, why wait? Order your favorite Wiley X prescription sunglasses online today!